A Century of Women
'A Century of Women' – only a century and so many tales to tell. Women as pioneers. Women as revolutionaries. Women as individuals who spoke up and spoke out for what they believed in; and women whose names will only ever be remembered by their families and friends, or by great grand-daughters who gaze at old sepia photographs and wonder who was that? Evan Boland penned a poem 'It's a Woman's World' (Collected Poems, 1995) and asserted – 'It's our alibi for all time: as far as history goes we were never on the scene of the crime'. Well, we were – it is just that our evidence had a strange habit of getting mislaid, or not being asked for or being disregarded as overly emotional or hysterical. History plodded along, for the main part, without women's voices – apart from the token number that simply could not be overlooked.
What this resource does is to offer a kaleidoscope of women's contributions to our social, economic, cultural and political life in one small region. The women that are recalled spoke with our accents; they walked the streets and fields that we walk today. They created space for us to be what we are, whether we agree with what they did or not. It was a difficult task to identify individual women that added to the weave of our local history; there are so many whose lives and achievements that could have been recounted. But this selection provides a good representation of the work, ideals and insights of women that are all too often overlooked in our history books. They are an inspiration of what determination, dedication and a modicum of courage that enable women to do. Dreams have no limits or borders in this age of increasingly rigid boundaries.
'A Century of Women' is an excellent resource for women who want to find out more about the women whose stories are touched on in this resource. The authors hope that it will pique their curiosity as well as encouraging them to ask 'why not me?' It will reassure them that women are achievers in many spheres of life, alongside being mothers, grandmothers, home-makers and workers. Women who were revolutionaries could also make jam. Women who were poets also had to get the children to school the next morning. Women are amazing.
It is impossible within this resource to capture all the achievements of notable women and it is anticipated that this narrative will grow and evolve in the future with a greater reservoir of women's names and achievements being gathered to add to this history from the grassroots. The reality is that there are so many stories still to be gleaned from the past, but equally, there are so many stories being made today as this resource is being written. Women, who one hundred years after the struggle for women's suffrage, have the courage to speak out fuelled by indignation and a sense that things can be better. Women who refuse to be labelled, abused or confined to 'a woman's place'. The authors of 'A Century of Women' hope that this work will spark further editions and welcome suggested contributions.
Finally, we are all indebted to the authors that have given considerable time and attention to compiling 'A Century of Women'. Collective authorship can be difficult when selections have to be made and the resource has benefitted from the extensive and disparate areas of expertise of the authors. Read 'A Century of Women' and enjoy it; but more than this, think how you can actively contribute to the century to come.
The Authors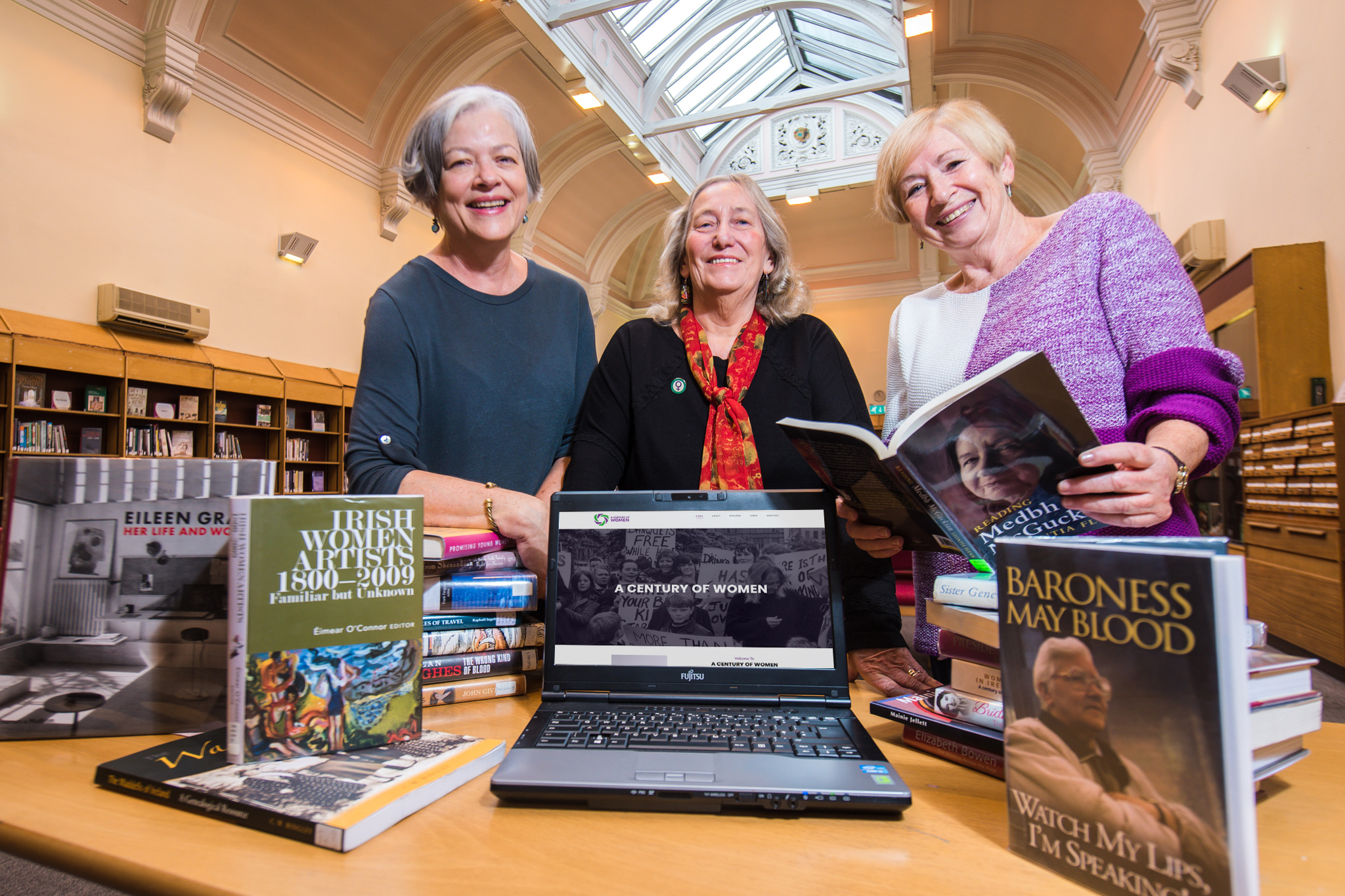 Dr Myrtle Hill
Dr. Myrtle Hill is currently a visiting research fellow in the School of History, Anthropology, Philosophy and Politics in Queen's University Belfast. Having left school at 15, she returned to education in her thirties as a mature student with two young daughters. Having obtained a Joint History and Literature degree, she went on to complete a PhD on social and religious history in nineteenth-century Ulster. A Fellowship in the Institute of Irish Studies was followed by a Lectureship in Adult Education and she eventually became a Senior Lecturer and Director of the Centre for Women's Studies before taking early retirement in 2011. For much of her time at Queen's Myrtle was responsible for the university's Access programme for mature students.
She has published widely on Irish Women's, Religious and Social History; her books include Women in Ireland: A Century of Change (2003) and Image And Experience: Photographs of Irishwomen c1880-1920 (1993, with Vivienne Pollock) and she has also written book chapters and articles on the Irish Suffrage movement, 19th century female missionaries, Ireland and Empire and Disability and Conflict. She is currently researching links between 'feminism' and 'the left' in Irish history; for example, a chapter entitled 'Voices from the Margins: Women and Belfast's Early Labour Movement' is shortly forthcoming.
During her academic career, and since her retirement, Myrtle has been active in the wider voluntary sector in the north of Ireland where she has served on the committees of a range of societies and Trusts, in addition to teaching, lecturing and providing workshops for local history societies and women's community groups. She is currently on the Board and Committee of the John Hewitt Society, a committee member of the Ulster History Circle and of the Reclaim the Enlightenment group.
Dr Myrtle Hill authored the following decades on this website: 1920's, 1930's & 1950's
Lynda Walker
Lynda Walker (25th April 1945)
Lynda Mary Horton was born in Sheffield and for most of her early life she lived in Parson Cross, one of the big sprawling housing estates, with her parents and her sister, her brother was 15 years older than she was and he left home aged 17. As a young girl along with her sister Margaret, they joined dancing classes and were often on stage in local community shows.
She went to Southey Green Primary and then Southey Green Secondary schools leaving school at the age of 15, going to work in Morton's Scissors, a small factory, on West Street in Sheffield.
She married at the age of 18 and had two children, Daniella on the 8th March 1964 and Russell on the 17th December 1966. In 1967, she left her husband.
In 1967, she joined the Communist Party of Great Britain and began to be active on a number of political issues including the Vietnam War, and attended Connolly Association, anti-apartheid and communist meetings.
In July 1969, she went to live in Belfast and became the partner of Terry Bruton who she eventually married-they were together for ten years.
In Belfast, she joined the N.I. Communist Party, which became the Communist Party of Ireland in 1970. She was also active in the Connolly Youth Movement and was Northern Area Secretary for a period of time in the early 70s.
In 1971, she helped to lead the protest against Maggie Thatcher's school milk cuts and was instrumental in contacting the Ulster Farmers Union who loaned the Belfast women two cows, which they took on their demonstration to the City Hall. The Belfast City council passed a motion opposing the cuts, maybe one of the few unanimous votes at the time. She was also very active in the Northern Ireland Civil Rights Association. In 1975, she was a founder member of the Northern Ireland Women's Rights Movement and helped open Belfast's Women's Centre in 1979.
All during the 70s up to the present day, Lynda has been active in women's and Trade Union politics. She is a trade union activist first joining TASS, then NATFE/UCU. In 1978, she became a delegate to the Belfast Trades Council. She was also secretary of the ICTU Women's Committee in the 70s and 80s and was a Commissioner in the Equal Opportunities Commission, representing the ICTU, from about 1986 to early 1990's. She was a founder member of Training for Women Network (TWN) 1996; Reclaim the Agenda 2010, and active in a number of abortion law reform organisations.
In the 1970s, Lynda began to study, first at Rupert Stanley College, now Belfast Metropolitan College (Belfast Met) then she went to Queen's University (QUB). In 1974, as a mature student at Queens University, she produced her first small piece of research on women and discrimination for the Queens Students Union; she was given a life membership of the union
Lynda graduated with an Honours Degree in 1977 and went to work at Belfast Technical College (TEC) now Belfast Met. She started part time teaching in the 'TEC' in 1977 and taught apprentices from the Shipyard, Shorts, and Government Training Centres. For the first 16 years, she taught16/17-year-olds General Education, as well as Social and Life Skills to teenagers on the Youth Training Programme.
In 1993, she embarked on a Masters Degree in Educational Research at QUB. In the same year, the college – then known as Belfast Institute of Further and Higher Education, now Belfast Met – brought in the Women's Studies Foundation Course, which she taught, and she eventually became the Director of Women's Studies. The course was run in Footprints Women's Centre and the Shankill Women's Centre as well as College Square East; she retired from the college in 2008.
Some of the remarkable women that she met include Valentina Tereshkova, in 1978, the first woman astronaut in 1978 (in Moscow), Gertrude Shope in Moscow in 1987, leader of the Women's Section of the African National Congress, Vilma Castro from Cuba, in 1987 Moscow, Angela Davis, Moscow 1987 and Belfast 1994 and 2017, and American actor and political activist Vinie Burrows 1984.
Plus many women from Ireland like Betty Sinclair, Madge Davison, Edwina Stewart, Avila Kilmurry, Monica McWilliams, Bronagh Hinds, Patricia McKeown Inez McCormack, Bernadette McAlisky too many to mention. And many of the fantastic women's studies students that she taught. She made some great friends in women's studies, amongst them Vilma Bisson, young Brenda Bruton, Eileen Kinner, Dawn Purvis, Joan Crothers, Claire Bailey, Terry McKeown, even Joyce McCartan (with her MBE, and Honorary degree) who joined a GCSE Politics class the year before she died. There were a whole lot of others from the 'Tec', Footprints and the Shankill Women's Centre.
Lynda was a founder member of the NI Women's Coalition (NIWC) and stood as a candidate in the Peace Talks helping to get Pearl Sagar and Monica McWilliams elected. She also stood in the local elections for the NIWC on the Shankill Road.
She remains a member of the Communist Party of Ireland where she was the National Chairperson from 2006 -2017. In 1988, she met up with and married a long time comrade and friend Ernest Walker from Sheffield who came to live in Belfast. In 1994, her son Russell died, age 27, as a result of being given contaminated blood products, he was a haemophiliac. Lynda has a daughter and three grandchildren.
• Brown Pat and Edgerton Lynda (Walker), (1979) Must we be Divided for Life? NIWRM.
• Edgerton Lynda (Ed) (1981) Breaking the Chains-Connolly's Selected Writings of James Connolly on Women. 1st Edition. Pub Communist Party of Ireland. 2nd Edition published 2016
• Edgerton Lynda, Hope Anne (1985) A Screen in Time Saves Lives N.I ICTU.
• Walker Lynda (1998) A Matter of Public Concern-Developing a Women's Strategy in Local Councils. Women's News.
• Edgerton Lynda (1986) Public Protest, Domestic Acquiescence in R.Ridd and H Calloway (Eds) (1986), Caught Up in Conflict Macmillan Press.
• Walker (Edgerton) Lynda (Ed) (2013) Madge Davison-Revolutionary Firebrand Shanway Press
• Walker Lynda: (various dates) Unity Paper: Numerous articles available in the Linenhall Library
Lynda Walker authored the following decades on this website: 1970's, 1980's & 1990's
Dr Margaret Ward
Dr Margaret Ward is Honorary Senior Lecturer in History at Queen's University, Belfast. She is a feminist historian, with a particular interest in the contribution of Irish women to political movements in the 20th century. A graduate of Queen's University, Margaret has a long-standing interest in teaching feminist history, beginning in 1975 when she developed the first course in women's studies for the Extra-Mural Department at Queen's University, followed by tutoring for the Workers' Educational Association on courses in Irish history and women's history.
From 1984-1986 Margaret was Women's Officer with the Department of Community Services, Belfast City Council. She organised (with Joanna McMinn) a one-day symposium on the women's movement in the north of Ireland, the proceedings of which she published as a pamphlet, A Difficult, Dangerous Honesty. An Ulster Unionist boycott of Council business during the 'Ulster Says No' period led to the post not being made permanent so Margaret moved to England, where she taught at the University of the West of England and Bath Spa University. Margaret has a PhD from the University of the West of England and an Honorary Doctor of Laws from the University of Ulster, for her contribution to advancing women's equality.
On her return to Belfast Margaret became assistant director of the think-tank Democratic Dialogue from 2000-2005. She was Director of the Women's Resource and Development Agency from 2005 until her retirement at the end of 2013. While Director of WRDA, on behalf of Reclaim the Agenda, Margaret led the project 'Belfast Women's History Tour' and wrote the pamphlet Celebrating Belfast women: a city guide through women's eyes, which has been used to inform feminist bus tours of Belfast.
Amongst her many publications are Unmanageable Revolutionaries: women and Irish Nationalism (1983), biographies of Maud Gonne and Hanna Sheehy Skeffington and edited works (with Louise Ryan), Irish Women and the Vote: Becoming Citizens and Irish Women and Nationalism: Soldiers, New Women and Wicked Hags. Her latest book is Hanna Sheehy Skeffington: suffragette and Sinn Féiner, her memoirs and political writings, UCD Press, 2017. Margaret is currently a Trustee of the National Museums Northern Ireland and a board member of Libraries NI. As part of the Decade of Centenaries Margaret has been involved in delivering lectures on women's involvement in political movements at venues throughout Ireland and Britain.
Dr Margaret Ward authored the following decades on this website: 1900's, 1940's & 1960's